Image of the Month - September 2003
Slyone aka 2003 QA
The Near Earth Asteroid 2003 QA was discovered on August 16, 2003, by students from several European countries during the Visnjan School of Astronomy 2003 (VSA 2003). While using the remotely controlled 0.3m Schmidt-Cassegrain at the Observatorio Astronomico de Mallorca (OAM) to take images of the bright Aten-type asteroid (2100) Ra-Shalom, the students noted another object in the field. Though fainter than (2100) Ra-Shalom, it appeared to move nearly as fast as this well-known NEO. The NEO group, consisting of the students Zsolt Diveki (Yugoslavia), Petra Korlevic (Croatia) and Brigitta Sipocz (Hungary), as well as their instructor Reiner Stoss (Germany) and the head oft the VSA, Korado Korlevic (Croatia), immediately recognized the importance of their discovery, and reported the NEO candidate to the MPC, under the temporary designation "Slyone". "That designation was an idea from Zsolt, because that space rock was creeping like a fox trying to hide from us. It has nothing to do with Silvester 'Sly' Stallone or Rambo, as some have speculated.", notes Stoss.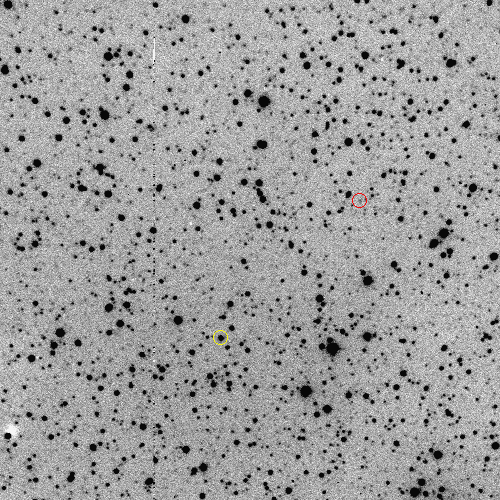 Credit & Copyright: Visnjan Scool of Astronomy, Visnjan Observatory, Croatia,
and Observatorio Astronomico de Mallorca, Spain. Images provided by
Reiner Stoss, Starkenburg Observatory, Germany.
In the sequence shown above, 2003 QA is marked by a red circle, while (2100) Ra-Shalom is marked by a yellow circle in each of the three 38 second exposures. "Of course, it was pure luck that the object crossed our field, as we did no search for NEOs. But it was no luck that my students found it on the images! It shows that they have their lessons learned and I can be sure that the Visnjan School of Astronomy was a success." says Stoss. "This is definitely the maximum result we could have achieved."
---
Related Links:
Images from VSA 2003
---
Image of the Month
Previous | Archive | Next
---
[ Home | Downloads | Version History | Star Catalogs | Registration | Mailing List | About the Author | Minor Planets | Monthly Image | Papers | Links ]